8 action-packed MS Swimathons across Queensland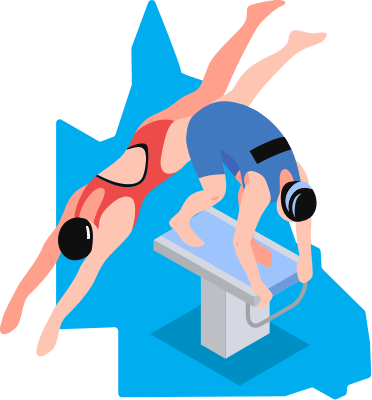 Awards & prizes
The MS Swimathon is all about celebrating your achievements both in and out of the pool. We have some awesome awards and prizes for our fundraisers, top swimmers and even for those who just give it a good try! Whether you're a champion swimmer or a superstar fundraiser… there is something for everyone.
Check out our awards and prizes page for more info!
Fundraising tips
Want to start fundraising by not sure where to start? We have heaps of tips and tricks to help you kick start your MS Swimathon fundraising!
The MS Queensland team have put together their top fundraising tips… check them out!
How your fundraising helps
The money raised by the wonderful swimmers and supporters in our MS Swimathon events helps to fund the vital services and support for people in the local communities living with MS. It is the incredible dedication of fantastic individuals getting involved and helping to raise much needed funds to support nearly 4000 Queenslanders living with MS.
You can read more about the impact your fundraising makes.
Living with MS
The MS Swimathon exists to raise funds to support the growing number of people diagnosed with multiple sclerosis (MS), which affects more young people than any other acquired chronic neurological disease.
RJB Services Pty Ltd just donated

$208.80

Uncle GRATT just donated

$20.88

Anonymous just donated

$52.20

Erin just donated

$37.58

Perrine Wales just donated

$156.60

Emily Vale just donated

$52.20

Emily Vale just donated

$52.20

JIM SPEERS just donated

$68.96

Nikki Collins just donated

$83.52

Davina West just donated

$20

Vicki just donated

$20.88

Lorraine Batterham just donated

$52.20

Anthony Menico just donated

$107

Jayde Lovett just donated

$31.32

Olivia Filbee just donated

$52.20

Inga Davison just donated

$37.58

Geoff Hamilton just donated

$1.10

Stephen McCarten just donated

$20.88

Casey Micklesson just donated

$10.44

Estelle just donated

$20
Check out our event day highlights!