About the swim
Event date: Sunday 16th May 2021
Event location: Redcliffe War Memorial Pool
Event timing: 6:00am - 6:00pm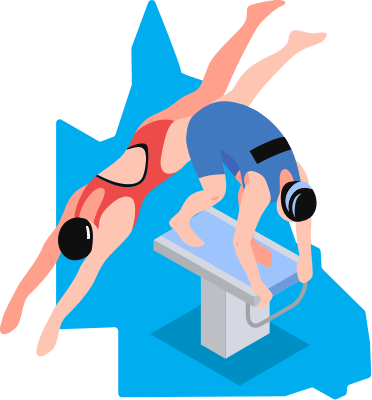 Why we swim, Karen's story
My name is Karen, I am married to a wonderful husband and I also have a lovely daughter.
I was diagnosed with MS (Relapsing-Remitting MS (RRMS)) in 2013. Following my diagnosis, I turned to MS Queensland. The information I was given gave me a little more control of my life. I have also been using support services, including, counselling and physiotherapy from the MS Queensland teams, whom I have found invaluable throughout this journey.
One of the things that has helped me a lot is swimming, not just for exercise but as a stress relief. I started aqua-aerobics almost 2 years ago with a fantastic group of ladies. This has helped me with my confidence in the pool.

This year, My Health Team has partnered with the MS Swimathon as our 2021 title sponsor. Andrew and the team are passionate about supporting those in the community living with MS.
My Health Team established a one stop allied health shop in 2016 to inspire those in and around Redcliffe to live healthy and happy lives. The clinic has been designed to support those living with neurological conditions, especially MS. My Health Team have linked the services that they feel best support those living with MS, including physiotherapy, podiatry, exercise physiology, dietetics and psychology. My Health Team design programs using specialist equipment, you can learn more about their services on the website.
Connect with us
#msswimathon