Michelle Hodges
Diagnosed with MS in 2021
Michelle was only 18 when she started having symptoms. It began with a seizure, followed by pins and needles in her extremities, which later progressed to her whole body up to her neck.
Doctors did all kinds of tests on Michelle, from echo tests to ECGs and EEGs, including a lumbar puncture which indicated a probable case of MS. However, she only had two episodes then and the diagnosis could not be confirmed.
Michelle recalls feeling upset and down about the prognosis. She became sicker, the more she thought about "why me?".
Eventually, Michelle decided that it was time to change her mindset and saw huge improvements in her health. Best of all, she got all feelings back!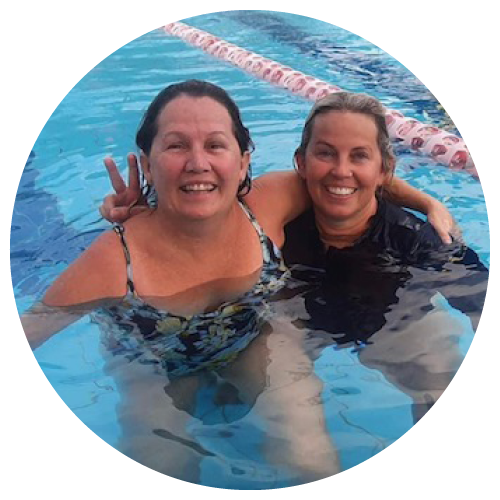 Fast forward to 2019, it was confirmed that Michelle has MS. In the past ten years, the lesions on Michelle's brain and spine had grown. Fortunately, Michelle is asymptomatic and does not need medication.
Michelle said:
"I feel like I am very lucky with my journey.
I have attended the MS Swimathon for two years now. My friend captained our team, as her husband also has MS. I feel like I'm doing my part in raising money to help with my future if ever needed. Fundraising any money makes me proud.
I'm a mother of two kids and two step kids. I currently work in disability and have a happy and healthy life."
Jeanette Hawes
Diagnosed with MS in 1995
Jeanette was just 24 when she was diagnosed with MS in 1995. She started experiencing signs 6-7 weeks before her first child was born. Her symptoms began with blurred vision in her left eye, but on visiting her optometrist, they couldn't see anything wrong.
Jeanette then began experiencing pins and needles down the right side of her face and even the right side of her tongue. She was told by her doctor that her symptoms were closest to Bell's palsy, but there was no muscle dropping. She was given a certificate to finish work before the baby was born and her symptoms seemed to disappear.
Jeanette had a great birth, but just 3 days later, the pins and needles returned down her left leg and toes, and she felt quite off balance. At home with her new baby, Jeanette started to walk into walls and doors and her eyes were permanently crossed. Things to her right were out of focus.
Jeanette's symptoms soon became so aggressive that she went to see a neurologist in Cairns, who told her that it could be MS, or maybe something else. After a referral for an MRI scan on her brain, where images produced allow doctors to detect areas of myelin damage in the brain, Jeanette was diagnosed with MS straight away.
"At this point, I thought I was going to die," Jeanette says. "But when I found out I wasn't, I learnt to make the most of every day."
"The doctor did tell me though, that I wouldn't have any more children, and that completely broke my heart, as I'd only just had my first baby. However, 7 years later, God blessed me with another great pregnancy and birth and now I just have to keep up with my 6ft5 son!"
Jeanette certainly enjoys being active and has continued to do so much, despite her MS! She raised her children, and always rode them to school and her husband halfway to work.
Although her balance is now sometimes not too good because of her fatigue, she wants to get some bigger training wheels so that she can continue to ride with her grandson!
Jeanette also attends an air-conditioned gym (and will be returning soon, after having had some unfortunate fractures), supports her youngest son in basketball whenever he plays, and also helps out looking after her grandson too. Jeanette also walked her dog until a few years ago, but she is still keen to find a way to do this.
It's not only keeping healthy and active that Jeanette enjoys, but she's also a keen musician, playing the keyboard or the flute in church when she's on the roster and likes to travel, having been to Europe, New Zealand, Fiji and Tasmania.
Jeanette tells us "If you don't use it, you lose it!" A fantastic motto to live by!
Let's not forget also, that Jeanette participates in the MS Swimathon in Townsville and has taken part with her mum and other family members since the swims started!
And when it comes to setting those fundraising goals, Jeanette says, "I start aiming around $200-400 and then God blesses me with heaps of sponsorship for a worthy cause that I am so passionate about! Over the years, I have raised over $6,500!"
Jeanette has received guidance from MS Queensland around her fundraising for MS Readathon and a fundraising dinner party that she organised, both of which have contributed to this incredible total!
"MS Queensland has supported me throughout my journey living with MS, providing knowledge about MS and heaps of information any time I need advice or support. I have participated in information sessions, workshops in North Queensland and attended webinars too. MS Queensland is my back stop if I am in trouble. I know they are always there."
In 1999 Jeanette started volunteering to speak and teach at schools and visit community groups to raise awareness of what Multiple Sclerosis is. "I started in Hughenden Schools, Charters Towers Schools then all Townsville schools wherever my husband was stationed in the Police Service. I read books and encourage literary skills while raising money to help researchers find a cure for this Mystery Disease and for support that assists people living with MS in so many ways."
At MS Queensland, we're so grateful for all of the funds Jeanette has raised and the incredible impact she has had through raising awareness of MS to so many in North Queensland.
Ashley Gill
Diagnosed with MS in 2021
Ashley is a young, energetic go-getter, who loves to travel, socialise with friends and was a regular at her Pilates classes. Her life was extremely busy juggling university, an internship and full-time work.
After a Pilates class one day, Ashley started to get soreness in her legs, that transitioned to numbness from her feet to her waist. Being so young and busy, Ashley didn't think much of it and put off going to the doctor for months.

Almost a year later, Ashley was seeing her physiotherapist about the numbness and was referred for an MRI. The MRI showed lesions on her brain and after undergoing further testing, she found herself in her Neurologists office. She was told she had MS.
"I remember looking out the window, and it was a hot sunny day. I was looking at my Neurologist, listening to her and I couldn't remember anything she said."
You can understand how terrifying it must have been for Ashley, to all of a sudden be stopped in her tracks.
MS is a condition that so often overwhelmingly affects young women. 3 in 4 people diagnosed are women and the average age of diagnosis is just 30 years of age.
"When you're young, you don't think it's going to be something as detrimental as MS."
Since her diagnosis in 2021, Ashley's symptoms have been mild and she is able to continue with her normal life, with just some adjustments. She experiences constant tingling in her legs and can often get aches in her joints. One of the biggest struggles she has is fatigue and the uncertainty of how long it can last.
Even though Ashley feels very lucky to be able to live her life, her MS has taught her the importance of taking care of herself. She has an incredible support system through her friends, family, partner and more recently, a great support group, who helped her navigate through her new diagnosis.
Ashley took part in her first MS Swimathon in 2021 and raised over $5,600 in just a few days before the Swim. She was overwhelmed with the incredible support people showed her.
"I remember thinking - Wow! This money is going to change so many people's lives."
Alyssa Martin
Diagnosed with MS in 2009
My name is Alyssa, and I have been part of the MS Queensland events community for a number of years. I am proud to have jumped on my bike and cycled in the MS Brissie to the Bay and in the last couple of years, I traded my bike helmet for a swimming cap to take part in the MS Swimathon. I was diagnosed with relapsing-remitting MS in 2009, when I was just 23 years old.
I look back now and think I had symptoms since I was about eighteen. I used to experience ongoing fatigue and muscle weakness. I had optic neuritis for a month before I was diagnosed with MS.
I remember when I was first told I had MS, I just cried and felt so overwhelmed.
All I had seen of MS was people in wheelchairs and assumed that's what my future looked like.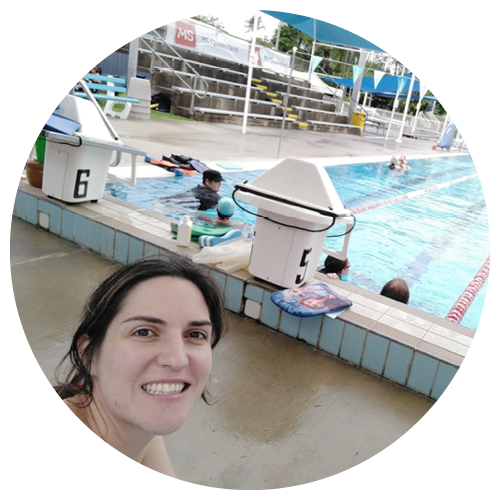 MS Queensland has been there to help since 2009. When I was first diagnosed, I had an initial visit and was provided with information packs. Since then, I have been able to access physiotherapy, consultations with the MS nurse and service referrals.
I have experienced symptoms including loss of balance, muscle weakness, vertigo, and even, loss of sensation in one of my legs.
I'd feel pretty lost without MS Queensland. Dr Google can't give you anything compared to the wealth of knowledge, professionalism and support that MSQ have given me.
13 years on from my diagnosis, I am a mother of two, and my MS hasn't stopped me from doing anything, but it has forced me to adjust.
My MS has taught me about strength, resilience and being your own best advocate as no one else knows what you are going through but you. Everyone's journey is so different.
Toni De Prada
Diagnosed with MS in 2019
I was diagnosed with MS in 2019, but my symptoms began a year before. I experience really bad vertigo and then six months later I had facial numbness.
I took quite a long time and many tests for me to receive my MS diagnosis. I first saw the doctor in October of 2018, and it wasn't until easter the following year, I was sitting with a neurologist who gave me the news I had MS.
When I heard those words, I was in a state of shock and disbelief.
I felt alone and didn't know what do to or feel.
I was in the car on the way home from the hospital after receiving the news and I got a call from the MS Queensland team. I told them about my diagnosis confirmation, and they organised for someone to call me. That meant so much to me, having someone there for me.
Over the next few months... MS Queensland was there for me. I felt like there was no question too silly.
The team helped connect me to psychology services, employment services, information about treatments, the website and even, Facebook pages...I suddenly didn't feel alone.
Living with MS has taught me so much. Most of all it has taught me that life is short, and I need to put myself first and make the most of each and every day.
While each day is different and can bring new challenges, I feel very lucky to have an amazing support system through my family, MS Queensland and my support group.
I like to live by the quote 'I have MS, MS doesn't have me.'
Amanda Bennetts
Living with MS for 10 years
Amanda received her MS diagnosis when she was just 25 years old. Before receiving this news, Amanda had undergone two years of medical investigation. She experienced chronic fatigue and a 'electric shock like feeling from my brain down my spine.' Amanda's first relapse happened when she was just 23 losing complete vision in her right eye for a short period of time.

"I honestly thought I was going crazy, all these weird things happening to my body that no one could explain."
After receiving the news, Amanda was overwhelmed with emotion. She drove out to a lookout and sobbed to herself- not knowing how to process the information. In that moment, Amanda decided to document the incredible sunset at the lookout.
"I will look back and see how far I had come from the helpless 25-year-old who's life plans and hopes had been pulled out from underneath her. "
This was the beginning of Amanda's art journey.
Amanda's diagnosis definitely impacted her life, forcing her to leave her fast-paced human resource planning role. However, it also gave her the opportunity to pursue her true passion, art. Amanda believes that if she hadn't been diagnosed with MS, she would have never been able to study art- an opportunity to she is so thankful for.
MS Queensland has been with Amanda since the very first day. Since her diagnosis, MS Queensland have been able to provide Amanda with phone support, neurologist information, MS nurse services as well as accessing seminars and workshops.
"People with MS in Queensland are so fortunate to have an organisation as MS Queensland supporting them through their entire journey with Multiple Sclerosis and I am very happy to be raising money and giving back to them so they can continue their excellent work."

One important thing Amanda learnt about Multiple Sclerosis is that there is no right or wrong way of dealing with diagnosis. There is only your way, and no one should tell you how to heal, everyone in the early diagnosis years needs to know that what they are doing to deal with the news is perfectly fine. We all heal in our own unique way.
Karen Patzer
Diagnosed with MS in 2013
My name is Karen, I am married to a wonderful husband and I also have a lovely daughter.
I was diagnosed with MS (Relapsing-Remitting MS (RRMS)) in 2013. I have had symptoms of MS for 10 years or longer, but they were not consistent which led to a delayed diagnosis. It was difficult to comprehend what was happening to me at the time, it was affecting me, of course, but also my family. This was a very stressful time for everyone.

Following my diagnosis, I turned to MS Queensland. The information I was given gave me a little more control of my life. Since that time, I have started being more conscious of my weight, diet and exercise. I have also been using support services, including, counselling and physiotherapy from the MS Queensland teams, whom I have found invaluable throughout this journey.
About 3 years ago we moved from Melbourne to Queensland. Whilst trying to manage my MS, last year, I was also diagnosed with breast cancer. After surgery and radiation treatment I am thankfully now in the all clear, however the illness caused a relapse in my MS.
One of the things that has helped me a lot is swimming, not just for exercise but as a stress relief. I started aqua-aerobics almost 2 years ago with a fantastic group of ladies. This has helped me with my confidence in the pool.
Kate Casey
Diagnosed with MS in 2006
Kate was diagnosed with MS in 2006, when she was just 18 years old, having experienced symptoms since she was 15. Kate experienced months of chronic dizziness, vertigo and balance issues before her diagnosis. In years before, she had even experienced vision issues and numbness in her hand and leg. The incidents were temporary and happened at different times - making it very hard to connect the symptoms.

"I did my best to stay rational and not catastrophise, but despite my neurologist's assurances I couldn't help thinking of wheelchairs and nursing homes when I'd barely started uni."
Today, Kate is passionate about MS awareness and communicating how the diagnosis is not the end for a young person- life can still be amazing.
Kate says that her MS hasn't stopped her from doing things- she just has to adjust how she does things. She loves staying active; enjoying yoga, short hikes and even getting back into playing squash.
"More than anything, I want to tell young people diagnosed with MS that this disease is not the end of their stories. Life may be challenging at times, but it is still every part as exciting and amazing, and dreams are still very much achievable - just sometimes in a slightly different way."
Kate finished her Uni degree in 2011 and has been enjoying her full-time work as an IT professional since. She is also an involved member of her MS community and MS Queensland has been with Kate on her journey since the early days.
" The incredible staff have been involved in so many aspects of my life; helping me to access health and education programs, providing medication training, assisting me on my NDIS journey, and assisting with establishment of our local young people's support group."
For Kate, the MS Swimathon is a great day in the pool celebrating community and friendship whilst raising funds for an incredibly important cause.
Rachel Kerr
Diagnosed with MS in 2006
Rachel was diagnosed with MS in 2006, just before graduating from high school. Rachel mysteriously went almost completely blind one day.
An emergency medical flight to Brisbane and a multitude of tests later, was has told she had MS.

For her, Rachel says that her MS is a daily battle between what she wants to do and what she is able to do. She faces new challenges every day and is actively working to overcome these hurdles.
Despite facing such a daunting diagnosis so young, Rachel has embraced her condition and is now helping others to live positively with MS.
In 2013, Rachel has played a crucial role helping MS Queensland establish the 12-hour Rockhampton MS Swimathon, and has been one of our highest fundraisers through the event, raising over $14,500!
"Being an MS Ambassador is very important to me as I feel Central Queensland needs to know more about the effects of MS. It also enables me to be able to present specific regional needs for the Rockhampton area back to MS Queensland to enable service improvements."
Rachel says gaining funding and raising awareness are the two vital components to improving the lives of people living with MS.
Kellie Carpenter
Diagnosed with MS in 1998
Kellie was diagnosed with multiple sclerosis (MS) in 1998, at just 29 years of age.
However, Kellie can remember struggling with fatigue in hot showers from the age of just 15. Now, she can pinpoint this fatigue as a symptom of her MS.
Before receiving her official diagnosis, Kellie experienced several symptoms including severe fatigue, balance issues and a loss of her sense of smell.
A rollercoaster of emotions followed her diagnosis.
"In some ways relief followed by feelings of fear for not just my future but that of my husband and children. Them having to care for me was never part of the deal."
Kellie's balance issues, poor cognitive function and overwhelming fatigue forced her to give up running her own business and prioritise her focus on her health.
"The relief was that I had an answer to what was happening, but my business was our main source of income and now I was not able to keep up. I had gone from 6 days a week managing a business and household to barely being able to find the energy to shower."
"MS does change a lot of things but looking back it gave me something that I have been able to pass on to my children and that's perseverance and determination to keep moving forwards no matter how small the task or success."
As a local resident of the Sunshine Coast and a member of the MS Queensland team, Kellie first joined us at the pool in 2015 and has taken part with several teams over the years. Kellie's passion and dedication to the cause is both personal and professional, with a strong believe that "we can, and we will"
As she gets ready to dive in again at her local MS Swimathon, Kellie is passionate about creating awareness within the community- for the community and ensuring that no one faces MS alone.
For Kellie, her next swim is all about "celebrating" the amazing work that MS Queensland has accomplished with the support of the Sunny Coast community, including the opening of the Sunshine Coast Wellbeing Centre, the introduction of wellness programs, the employment services and specialist accommodation, all accessible within the community.